The Scottish local government elections take place on Thursday 4 May 2017. Local government has borne the brunt of austerity cuts over the last decade. UNISON is campaigning for fully resourced and accountable public services in local communities delivered by a fairly paid council workforce.
Manifesto and resources

For Fairness and Democracy – Keeping It Local: UNISON Scotland Local Government Manifesto 2017.
Our challenge to all parties in the local government elections – policies to combat austerity and deliver vital public services for our communities

Infographics
Local Government Champions – cards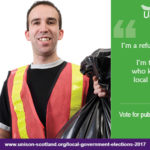 Click here for our Local Government Champions cards 
Click here for infographics representing the results of our Survation poll on Scottish attitudes to public services 
The summary report is available here
https://unison-scotland.org/wp-content/uploads/ScottishAttitudesPoll_Mar2017_summary.pdf
and the tables here
https://unison-scotland.org/wp-content/uploads/ScottishAttitudesPoll_Mar2017_tables.pdf
Other resources