This year there were again more entries than before, the standard absolutely tremendous. Union activists taking the time and mostly their own time to inform, involve and enthuse members, to take forward local issues and to promote national and international campaigns. So everyone who entered the competition should be commended for their work and know that they are doing a really good job and how important this is for the union.
Communications Home
 Best Printed
Recruitment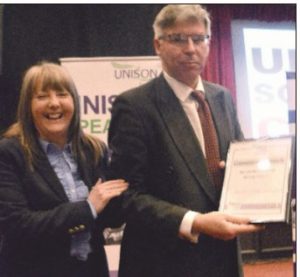 Best Online
Best campaign
UNISON Scotland celebrated the high standard of communications and campaigning work in branches at the union's Scottish Council in February.
The annual Communications and Campaigns Committee awards saw more entries than before and, introducing the the event, Jane Aitchison, vice-chair of the committee, said the standard was such that she wished everyone could have got a prize.
This year the judges were Jane Carolan, National Executive Committee, David Malcolm, communications activist with Police Scotland Branch and Jane herself.
Jane told delegates: "What a standard of work – folk involving, enthusing members, taking forward local and national campaigns, fighting for jobs, pay, conditions, safety and equality.
"Folk taking the time fighting against the cuts to services, the job losses, the inequality and unfair treatment that gets more and more rife in these difficult times.
"And the time they are taking is more often than not their own time – activists giving up their own time to help build a stronger union, sometimes winning big campaigns, sometimes against all odds chipping away and making small victories, continually putting forward an alternative to austerity, and promoting that with our members, the public and our politicians.
"So congratulations to everyone who entered the competition. What good work, please know what a good job you are doing and how important it is for the union. I just wish we could give everyone a prize."
We greatly appreciate the sponsorship of the Awards by UIA, Thompson's Solicitors, Liverpool Victoria, Lighthouse Financial Advice, and TC Branding Group. So yes they are going to get a plug today. But not just because they are sponsors but because the insurance deals, free wills, discounted legal assistance, free financial advice, and using the branded merchandise from our sponsors, should all help to recruit and retain members.
So let's see who the winners were.
Best Printed Category
Gold Award sponsored by Liverpool Victoria
The Liverpool Victoria Gold Award went to NHS Glasgow and Clyde and CVS Branch for a "well designed, and well written magazine with an excellent mix of branch material and content relating to local and national campaigns, from car parking to NHS slash and burn cuts, not just informing but involving members."
CCC Silver Award
The Committee's Silver Award went to Highland Healthcare for "an informative magazine, jam packed full of local branch information, some good advice to members on registration and pensions, and linking into national campaigns"..
TC Branding Bronze Award

The TC Branding Bronze Award, went to NHS 24 branch for "a good wee magazine that would keep you well informed about the branch and links into national campaigns – and wee bit of humour too."
Best Campaign
The Thompsons Gold Award


The Thompsons Gold Award went to the Further Education Sector for "an impressive and successful pay campaign, members organised and held out for fairness, and took on intransigent employers and WON! Striking coupled with effective communications including and involving the membership."
The CCC Silver Award
The Committee's Silver Award went to Falkirk Branch for a campaign that saw all the different strands of communication come together to further an anti cuts campaign, reaching the press, the public and their politicians, and very importantly not just informing but involving members and the local community.
The Lighthouse Bronze Award


The Lighthouse Financial Bronze Award went to the Scottish Young Members Committee's Gonnae Nae Dae That anti bullying campaign. An exciting, bright, catchy campaign, engaging members young and old.
The UIA Best Online Presence Awards
The UIA Gold award
 

The UIA Gold Award went to Falkirk Branch for a web presence with a "well designed website again linking into social media, another strand in their Cuts Hurt campaign, involving members encouraging them to write to their MSPs and linking into survey monkey to gather workers' testimonials."

The UIA Silver Award


The UIA Silver Award went to Scottish Regulation of Care Branch for a new website with "a clean design linking into social media, including a member restricted area too, using member surveys to direct their design and development of the website."
The UIA Bronze Award

.. goes to a very rounded and all linked up web presence, with a very well designed website, blog, Twitter and Facebook. Up-to-date and jam packed full of information about the Branch itself, about the local cuts campaign, as well as national themes and allows members to register their email or updated their details. The Thompson's Gold Award goes to Edinburgh City Branch.
Special Recruitment Prize
Liverpool Victoria Special Recruitment Prize

It was refreshing that people were recruiting and actually enjoying themselves and Inverclyde weren't the only branch that was doing this. Unfortunately we have only got one recruitment prize but a special mention goes to Arran and Ayrshire Branch for their recruitment efforts maximising their workplace presence, fun days, stalls and competitions. Even up for a bit of festive fancy dress, and giving away free mince pies too!
The winning branch chose to take their recruitment out to community based events, and to run their own socials, increasing their membership by a whopping 200 in one year – around 12% which I am sure we would agree is quite an achievement.
And the Liverpool Victoria Special Recruitment Prize goes to the Inverclyde Branch.
Thanks again to our sponsors.
And well done everyone! Keep up the good work.
This year the judges were Jane Carolan, National Executive Committee, and Danny Phillips, Scottish Communications Officer. And Jane Aitchison, Vice-chair of the UNISON Scotland Communications and Campaigns Committee.