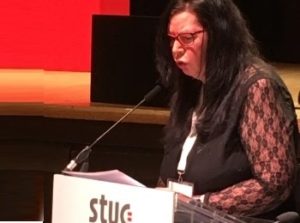 #stuc19 Recognising the key importance of trade union membership and collective bargaining for workers' rights, Congress backed a range of measures to improve collective bargaining coverage, end insecure labour and promote fair work principles.
UNISON's Jane Aitchison supported the wide-ranging composite motion from the General Council, PCS, ASLEF, CWU, The Bakers, Food and Allied Workers' Union and Midlothian Trades Union Council, which paid tribute to the Glasgow equal pay strike and other successful action over the past year.
Jane told Congress that UNISON was proud to support this motion which applauds the organising by sister unions and UNISON over local government pay, teacher's pay "and of course the amazing Glasgow Equal Pay strike last year."
Jane continued, "if anything shows the power of organising, it was the low paid women union members in Glasgow who totally rocked it – and not just with their dancing and singing in George Square.
"The brilliant strategy and organising and building that the union members on the ground did over a long period is what led to the success of the strike, seen around the world as a major trade union organising win," added Jane, calling for us all to learn from this.
"We want to make low paid, insecure work history, and it is through our collective trade union effort that this will be done."
Jane called for an extension of collective bargaining coverage, with companies only allowed to bid for contracts if they recognise a union in the workplace.
She highlighted the shocking treatment of UNISON members by Cornerstone who ripped up our recognition deal in November.
"Work is ongoing to win statutory recognition, as you would expect, and our members are strong and have the full support of UNISON behind them."
Jane commended the Fair Work Convention's recommendations on Social Care, including a major overhaul to ensure that commissioning delivers high quality care without the use of zero hours contracts and other exploitative practices.
"Women who look after our vulnerable family members should be valued and treated with dignity. We will fight, alongside all of you, to deliver that," pledged Jane
Click here for more information on the STUC website.