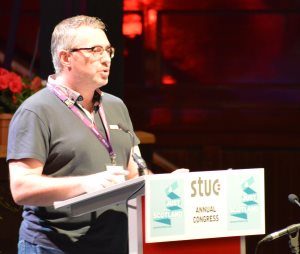 #STUC16 The STUC will continue to oppose the "Prevent" strategy amidst concerns that it could criminalise Muslim communities and has called on the Scottish Parliament to ensure that it doesn't divide our communities as it is implemented in Scotland.
Delegates heard that it will force workers in the health service, the prison service, local authorities, school , further and higher education and elsewhere to act as "snoopers" to report signs of radicalisation, which is very narrowly defined.
UNISON's George McIrvine told delegates that there is a great deal wrong with the 'Prevent' Strategy.
As recently as January this year David Anderson QC, the independent reviewer of terrorism laws, called for an independent review of Prevent citing it as a "significant source of grievance amongst British Muslims" and "ineffective or being applied in an insensitive or discriminatory manner".
"Views on Prevent range from perceptions of it being "the biggest spying programme in Britain in modern times" to quite simply "broken"," said George.
"What is unquestionable, is the massive mistrust and lack of confidence in the strategy from communities the length and breadth of Britain."
"The biggest criticism is that Prevent specifically targets and stigmatises Muslim communities and fosters Islamophobic sentiment which is counter productive to the aims and aspiration of detecting and protecting those who are most vulnerable and at risk of exploitation," he added.
He referred to the statutory duty placed on Scottish public sector bodies, from July 2015 included in the Scottish Governments 'Revised Prevent Duty Guidance for Scotland.
"This does nothing to address the problems Prevent has introduced and fostered in England and Wales."
George described "an unrealistic burden of expectation on services; in local government, schools, further education, the NHS." It also places Police Scotland at the forefront of strategy and engagement.
"Frontline staff are to be 'trained' in the delivery of Prevent principles in services starved of investment and bearing the brunt of significant Scottish Government cuts.
"A lack of resilience in our services mean our members are already overworked, under pressure and struggling to provide the services they are employed to provide," warned George.
"What we have seen in Scottish Policing since the establishment of Police Scotland does nothing to inspire confidence that our policy makers have a realistic grasp of the impact their policies have on our communities," he said, pointing to the tragic death of Sheku Bayou and the M9 tragedy.
"There is a lack of trust in our authorities and no belief that they will do the right thing by our communities.
"Staff and communities are already disengaged or hold negative perceptions of what is being delivered and to what standard by public services in Scotland.
"Meaningful interventions require consent and participation to be truly meaningful and from what we know and understand of Prevent over these last 4 years in England and Wales these have been sorely absent.
"When applied by our services in conjunction with Scottish Government Policy, it is a potential disaster waiting to happen."