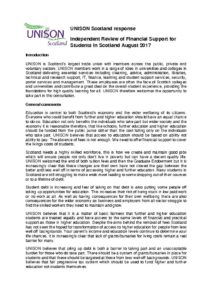 Education is central to both Scotland's economy and the wider wellbeing of its citizens. Everyone who could benefit from further and higher education should have an equal chance to do so. Education not only benefits the individuals who take part but wider society and the economy. It is reasonable therefore that, like schools, further education and higher education should be funded from the public purse. The full costs must not fall on the individuals who take part. UNISON believes that access to education should be based on ability not ability to pay. The absence of fees is not enough. We need to offer financial support to cover the livings costs of students.
UNISON believes that it is a matter of basic fairness that further and higher education students are treated equally. Students should have access to the same levels of financial and practical support as those in higher education. Despite the aims behind the removal of fees Scotland has not seen the hoped for transformation of access to higher education for people from less well off backgrounds. Your parents' income and education levels continue to determine your life chances. It is increasingly clear that lack of grants/bursaries for living costs remain a real barrier for many.
Our economy depends on a highly educated workforce and on people being able to take part in education at different times in their lives. This enables workers to develop new skills and therefore be able to find and keep jobs. The review therefore needs to come up with a system of student funding that delivers for the diverse range of people who now take part in post school education. The current system still assumes that students are young people who have parents who can support them. Not everyone has parents who are willing or able to provide financial support and many current or potential students are older and have dependents of their own.
The new system for student support needs to be the same across further and higher education. This will help to ensure that the system is clear and easy for students and potential student to understand and navigate. It is also much fairer. There is no reason why you should have less support in further than higher education.
Websites are useful for generic information but they cannot replace face to face contact with a person who understands the system and your individual circumstances. Students need staff in colleges and universities who can access the system to give them a definite offer of financial support. An idea of what may be possible is not good enough for people to make decisions on their future. Students need to have face to face contact with information and advice services in the universities and colleges that they attend. They also need to have access to people who are able to make decision in their institutions. It can't just be sign posting people to other places. Improvements in new technology mean it is perfectly possible for a student funding system to be staffed, not in a central warehouse, but by individuals on the ground in our colleges and universities.