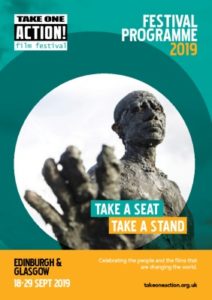 The fantastic Take One Action Film Festival is back for 2019 with a brilliant programme of global change films in Edinburgh and Glasgow in September.
Take One Action celebrates the people and films that are changing the world. As they say, take a seat and take a stand. View the trailer here.
Take One Action is supported by UNISON Scotland and takes place from 18-29 September. This is the festival's 12th year and UNISON is supporting three films, including with speakers representing our International Committee at five 'Beyond the Screen' discussions.
UNISON members can book discounted tickets for just £5.50 for screenings at the GFT (Glasgow) and Filmhouse (Edinburgh), if you book in person at the Box Office and show your UNISON membership card. And there is a pay what you can sliding scale at all other venues. Details of that here.
Do check out the whole programme, but we obviously specifically recommend the screenings that we are supporting:
Push – the opening film WED 18 SEPT | 20:20  FILMHOUSE, EDINBURGH
Landlords without faces, apartments without renters… Housing prices are skyrocketing in cities across the world, but incomes are not – pushing long-term residents out.
This is not gentrification, it is a relatively new economic reality: housing as a financial product, an investment of choice for corporate finance, a place to park money. More and more cities are servicing the wishes of global capital over the needs of most of their population. So how do we push back and reclaim the streets?
In New York, London, Barcelona, Seoul and Valparaiso, this incisive documentary by investigative filmmaker Fredrik Gertten (Bikes vs Cars, TOAFF15) follows Leilani Farha, UN Special Rapporteur on the right to adequate housing, as she meets with residents, mayors, campaigners and economists to reclaim housing as a human right, not a commodity.
Our speaker at Beyond the Screen afterwards: Scott Donohoe, Chair of UNISON's Scottish Housing Issues & Welfare Group.
Push (in Glasgow) THURS 19 SEPT | 19:30  CCA, GLASGOW
Our speaker at Beyond the Screen afterwards: Lynn Williamson, International Officer, North Lanarkshire UNISON.
Everything Must Fall  THURS 26 SEPT | 19:30  CCA, GLASGOW
This urgent documentary chronicles the rise of the #FeesMustFall student movement which ignited into one of South Africa's most militant national revolts.
As recounted by four Wits University student leaders and their Vice Chancellor, Adam Habib (himself a former anti- apartheid student activist), this is a high-stakes battle of wills and principles, fuelled by rising student debt and exploitative conditions suffered by universities' outsourced workers. Far from homogeneous, the movement's intersectionality challenged a long history of male-dominated liberation politics. In the grip of internal dissent, the protests were met with violent repression, culminating in riot police descending on campus.
Director Rehad Desai captures the urgency of the movement's demand for free, decolonised education, which morphed into a wider rallying cry for social justice: fees must fall, outsourcing must fall, poverty must fall, racism must fall – everything must fall.
Our speaker at Beyond the Screen afterwards: Stephen Smellie, Depute Convener, UNISON Scotland.
Soyalism + meal  FRI 20 SEPT | 19:00   OUT OF THE BLUE DRILL HALL, EDINBURGH
(Also screening with meal on WED 25 SEPT | 18:00 CCA, GLASGOW)
Food production has increasingly become huge business for a handful of giant corporations. How do we re-prioritise workers' rights, animal welfare and environmental sustainability?
Through interviews with workers from China, Brazil, the US and Mozambique, Soyalism lays bare the many land rights and labour rights violations at the heart of the pork industry. It offers an incisive overview of a deliberately complex system – and the ecological and social ramifications of such enormous concentration of power in the hands of Western and Chinese companies.
Soyalism also provides an eye-opening and urgent reminder of the crucial role workers, consumers and campaigners, wherever they are, can play in solidarity with communities across the world, who are fighting to protect their rights.
Our speaker in Edinburgh at Beyond the Screen afterwards: Tara McCarthy, International Officer, UNISON City of Edinburgh.
(NB: We are also supporting the Aberdeen screening of Everything Must Fall on  Sat 16 Nov, including with a speaker afterwards. The programme for TOA Film Festivals in Aberdeen and Inverness is published later this month, when we will update this page.)