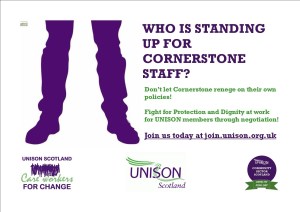 In a major breakthrough in our union's battle to force recognition in Cornerstone, UNISON has been told that our application for the right to represent our members at Cornerstone can proceed.
The Central Arbitration Committee (CAC) ruled in UNISON's favour on 18th July opening the door to UNISON's application for statutory recognition.
Cornerstone ripped up a long-standing collective bargaining deal last year following a dispute overthe charity"s strategic plan and pay.
UNISON Scotland's head of community Deborah Clarke paid tribute to the stewards and staff of Cornerstone for all their commitment and hard work during this time.
She said "Cornerstone's attempts to breach our members' human rights by ripping up our collective bargaining agreement is disgusting and makes a mockery of the chief executive's status as a Scottish Government Fair Work Ambassador.
"In an effort to lay bare Cornerstone's actions by ignoring their staff we will be applying for statutory recognition, an unprecedented move and one that members across Cornerstone are confident we can achieve "