In the first debate of Local Government Conference, delegates backed a raft of actions to step up the fight against cuts to local government funding.
Speakers spoke passionately about the impact of cuts on the poorest in our society, on our members and on the services they provide.
Earlier we had held a minute's silence for all those who lost their lives in the Grenfell Tower tragedy and many delegates spoke of their anger that cuts had resulted in such a terrible and unnecessary loss of life.
But there was hope too. Hope that our campaigning is bearing fruit – that with the election result and the rise in support for Jeremy Corbyn's Labour Party, we are seeing a sea change in politics that is empowering the young and giving a voice to those who have had none.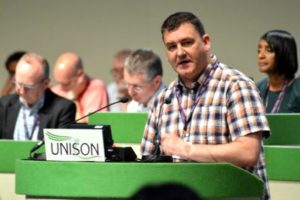 Renfrewshire's Brenda Aitchison slammed the devastating impact of the austerity agenda on our members and our communities.
She told conference that in Scotland, UNISON's Local Government Committee has been stressing the importance of seeing council services as health services.
"Our services…. when properly funded are often a far more cost effective way to prevent the very causes that result in our people having to access the NHS. We create healthier, safer and happier communities," said Brenda.
Renfrewshire's part of the composite called for more action to co-ordinate action and share ideas. As a result a meeting will be held of all local government sectors in the UK; there will be a UK Day of Activity to keep up the pressure on politicians; and a local government anti cuts campaign fund will be set up to support and resource a campaign and industrial strategy.
She pointed out that the recent General Election has shown increasing public support and awareness of the value of public services.
"Now is the time to build on this momentum."
This was reflected by Jim McFarlane of Dundee City Branch who told conference that we have had a cuts agenda that is nothing more than planned poverty. He called on us to learn lessons from the General Election.
"The main one is that when our movement is bold and puts forward socialist ideas that can benefit our members, such as the £10 an hour minimum wage, public ownership, workers rights, then it can get widespread support."
He urged massive support for the demonstration called for 1st July by John McDonnell. Like many speakers he spoke of the "horrific events at Grenfell Tower which shows the brutal reality of austerity. We must channel that anger and rage we all feel.
"The message from this conference should be, 'We have had enough; our members have had enough; the communities our members work in day in and day out have had enough. We deserve better.'"