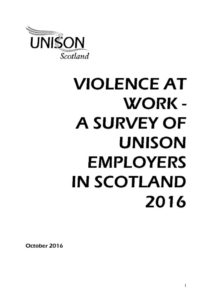 Violent Assaults on Public Service Staff – UNISON Scotland Survey 2016
Since 2006, UNISON Scotland has carried out an annual survey of assaults to public sector workers by issuing a Freedom of Information (FoI) request to all employers of UNISON members in the public sector.
Our analysis of the figures received for 2016 shows a total of 41,143 assaults – an increase of 2,684 compared with last year's figure of 38,279.
Over the last year Local Government assaults have risen by 4,399 from 13,206 to 17,605, In Health there has been a decrease of 1,520 from 18,636 in 2015 to 17,116.
The changes in these figures always come with a warning. Some of the increase will reflect greater awareness and better reporting – partly a result of the campaigning work done by UNISON and our sister trade unions. However, some employers still appear to have very low figures which raises the suspicion of under-reporting. Some employers will have changed their reporting systems for various reasons and the basis of reporting may affect the outcome.
The integration of health and social care, creating health and care partnerships which are made up of both local government and NHS staff, continues and although most workers remain with their original employers, this may change the figures for violent incidents as well.
It is now ten years since our first survey of employers in 2006 identified just over 20,000 violent incidents in the NHS and local government. The figures have steadily increased over this period. According to our surveys, reported violent assaults on public service workers have more than doubled in ten years. Every single violent incident suffered by a worker going about their job serving the public remains completely unacceptable. The doubling of reported violent incidents must be addressed directly by employers, workers and government.
We would argue that this shows the problem is clearly getting worse rather than better.
The recording of incidents in the health service has improved with the system known as Datix, which appears to have made reporting more consistent across the territorial health boards.
We have noted in previous surveys that reporting in local authorities has improved in recent years, with more councils being able to produce proper information. However, there are still a few whose information is limited, e.g. they are still sending in a list of assaults, with no totals, and clearly no co-ordination between separate departments. In addition some have not recorded verbal assaults. Overall monitoring of figures within an authority cannot take place if the statistics are kept in departmental silos and never collated centrally.
Read and download full document – PDF
https://unison-scotland.org/wp-content/uploads/ViolentAssaultsonPublicServiceStaff_UNISONScotlandSurvey_Oct2016.pdf