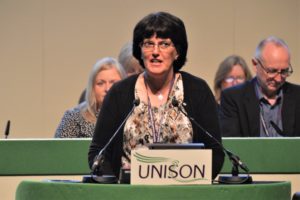 Local Government Conference backed a wide-ranging strategy to save local government services and slammed the impact of Tory cuts on our most vulnerable across the UK.
Moved by Northern Region, the composite also included a motion from South Lanarkshire and an amendment from Scotland.
Speaking as Scottish Regional Delegate, Brenda Aitchison told delegates that in trade unions we see the real scale and impact of the cuts. Brenda added that in Scotland we have consistently campaigned for the Scottish Government to make better use of their devolved powers with regards to taxation.
She described how branches have used their industrial strength to collectively organise their members and their local communities in their fight against cuts to services.
Brenda highlighted victories amongst members in Dundee, in West Dunbartonshire, East Dunbartonshire, Clackmannanshire and Angus.
She welcomed the work at UK level to gather intelligence from across the union. "Not just the success stories but seeing what worked and what didn't and why in our local campaigns and disputes," said Brenda, adding that this will give us the opportunity to analyse and learn and make us stronger.
Supporting, South Lanarkshire's Margaret Gallacher reminded us that for over 10 years now local government budgets have been cut every year, year on year.
"Whichever evil clown wins the Tory leadership circus, their policies show off more cuts to come. Truly the more things change the more they stay insane," slammed Margaret.
"The headlines should all be about the scale of local government job losses but Council jobs are managed out of existence, services are cut by stealth and the cuts barely feature in the local paper at budget time. We shout, pass motions, campaign and sometimes take strike action but the cuts continue."
Councils aren't a good place to work any more warned Margaret, calling on us all to continue the fight to save local government services.
"We need to get better at getting our message out to the public and the politicians. We need to call out the devolved governments who've passed on cuts instead of fighting them.
"We need to be bolder in demanding more powers for Councils to raise taxes locally rather than depending on central government hand-outs with their ring fenced obligations."
She called for councils to have powers to raise income and to decide their local priorities, adding that if the Council tax can't be fixed then it needs scrapped and replaced with a better local taxation system to provide money for services
"Let's campaign boldly and positively for these changes," urged Margaret.
Dundee's Mags McGuire said that over the last 10 years her local authority has had over £100 million slashed from the budget. "Add that to the other 31 local authorities in Scotland then add in the rest of the country… Well you do the math. It makes my eyes water and the red rag comes out. We're allegedly the fifth richest country in the world. Well I'm not seeing that," slammed Mags.
"It has to stop and it has to stop now," urged Mags, calling for the Tory government to go in favour of one that will make public services their priority – one that will give 110% support behind bringing public services back in-house and ending outsourcing and privatisation.
"This country was built on public services. They are the backbone which made our country what it was.
"UNISON needs to be at the forefront of re-energising public services," demanded Mags.