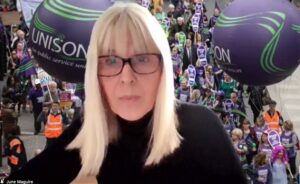 STUC Women's Conference backed a wide ranging COVID recovery plan that reflects the reality of women's health and demanded that the Scottish Government and local authorities work with trade unions to address the impact of COVID on women's mental and physical health.
This to include greater access to flexible working, health and safety risk assessments in the workplace around mental health and stress in all spheres of life and improving access to free childcare, family support and parental and care leave.
Seconding the motion from the EIS, UNISON's June Maguire told delegates that women's health issues are complex, and have been a long-standing concern of the trade union movement and inextricably linked to women's equality.
The covid pandemic has thrown many of these issues into stark relief and it's clear the pandemic has affected women's health more than men's, both as frontline workers and at home.
June warned that many women are dealing with a 'perfect storm', as increased demands at work and at home impact their health.
"Many of these women are providing vital services, but so many of their jobs, as we know, are both undervalued and underpaid. Existing services to screen and provide treatment for the range of mental health difficulties being experienced, including feeling suicidal, are simply not adequate," slammed June.
She pointed to the vicious cycle of excessive workloads causing work-related stress, which in turn impacts physical and mental health.
"Our members report being exhausted, in a constant state of anxiety and fear, experiencing emotional disturbance, sleep and cognitive disorders. This leads to more frequent or long-term absences, which impacts the health and wellbeing of those not absent from work," she added.
"The pandemic has also contributed to a horrifying increase in domestic violence, and all the different forms of online violence too. Many delegates yesterday spoke movingly about these struggles, struggles that women are facing every day – with sexual harassment in the worklace and in the street, misogyny and gender-based violence blighting the lives and the health of countless women and girls.
"A lack of adequate support to protect women from these traumas is having serious consequences for women's health."
She called on the STUC Women's Committee to demand that our government recognises the enormity of this contribution and takes meaningful action as outlined in the motion to protect and support women as we deserve.
"We don't just want words, we want to see women's equality placed at the heart of the political agenda."