CORONAVIRUS ALL MEMBERS: Workplace health and safety is central to the union's pandemic response and this will intensify as we plan for a phased return to work while continuing to protect vital health, social care and other groups already engaged in the initial Covid19 response.
Please find attached a Covid-19 Safety Pack compromising a leaflet for members, a longer guide for reps and staff; and a summary sheet which sets out the roles for reps, branches, organisers and the region in addressing safety issues during the pandemic.
Members' Leaflet – this short document informs members how to gather the information required to expose, question and, where necessary, challenge unsafe work. The leaflet connects members to an online safety checklist. Copies of the checklist data goes to the member via email and they can then relay that data to reps, branches or the region for advice as required.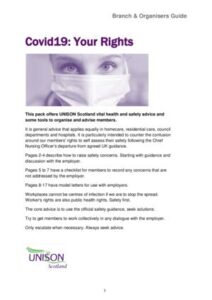 Rep & Organisers Guide – the guide expands on the information in the leaflet and includes model letters that reps can use depending on the problems and issues revealed by the checklist.
Roles & Responsibilities – this document addresses the need for clarity about the relative roles of reps, branches and staff in addressing safety issues and, where necessary, escalating situations in order to keep members safe.
Aggregate data – in addition to generating individual safety "checklists" in PDF files emailed to members, the online checklist gathers aggregate data that UNISON can use to engage with employers and at a national service group level. This facility enhances the union's ability to address any recurring or systemic safety problems.